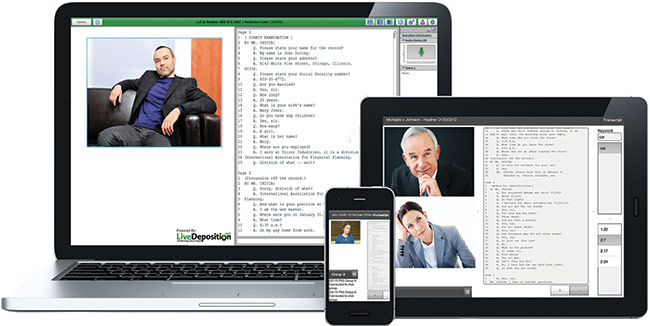 Attorneys, paralegals, consultants, experts, and clients need not be sitting in the actual room any longer to participate in the deposition and/or arbitration. With the advent of Internet live text, audio and video streaming, they can now be scattered across the country in different locations participating remotely in the proceeding via a secure, encrypted connection from their home office, without incurring the time and expense of travel. An expert witness can be testifying in New York while an attorney in Los Angeles receives the text/testimony, audio and video feed in real time.
LiveDeposition – ability to relay to all popular realtime software, including CaseViewNet, LiveNote, Summation, Binder and Bridge
LiveNote, LiveNote Web, and LiveDeposition
Secure, encrypted and password-protected
Two modes: Interactive or Monitor Only (i.e. Clients)
Participate remotely in a deposition that may otherwise be missed due to scheduling conflicts or multiple same-day depositions
Entire legal team can assess a deponent's demeanor, rather than rely on a sterile transcript after the fact
Integrated and secure chat window
Ability to collaborate with team members, clients and co-counsel through instant messaging and sharing information during the deposition and/or arbitration
Broadcast depositions to your team in real time.
LiveNote Stream lets you broadcast the audio, video, and text of a deposition securely and in real time to all members of your litigation team anywhere in the world where there is Internet access. Remote team members see and hear the deposition so they can pick up on important non-verbal cues that wouldn't show up in a written transcript.
Gain an edge in the deposition room
Strengthen your presence at a deposition and fluster your opponent
Broadcast securely, in real time, to experts, paralegals, clients, attorneys, and all other authorized team members
Get instant, private input from anyone connected to your group
Refine your approach during the deposition
Enable everyone on the team to observe the witness
Reduce travel expenses
Ask for LiveNote Stream
All you need are broadband Internet and Microsoft® Internet Explorer®. Free viewing software is available if you don't have LiveNote or Case Notebook software.